NuU COOKING SCHOOL
ENJOY LUNCH and DISSCUSSION
with BillandKay
TASTES for HEALTH
LUNCH TOPICS ADDRESSED

Where to buy better food.
Preparing wellness food.
Understanding Lables.
Careful buying.

Call or eMail for dates
TelNum 281.251.4544 <> $8.00
eMail Reservations
NuU recess: July, August and December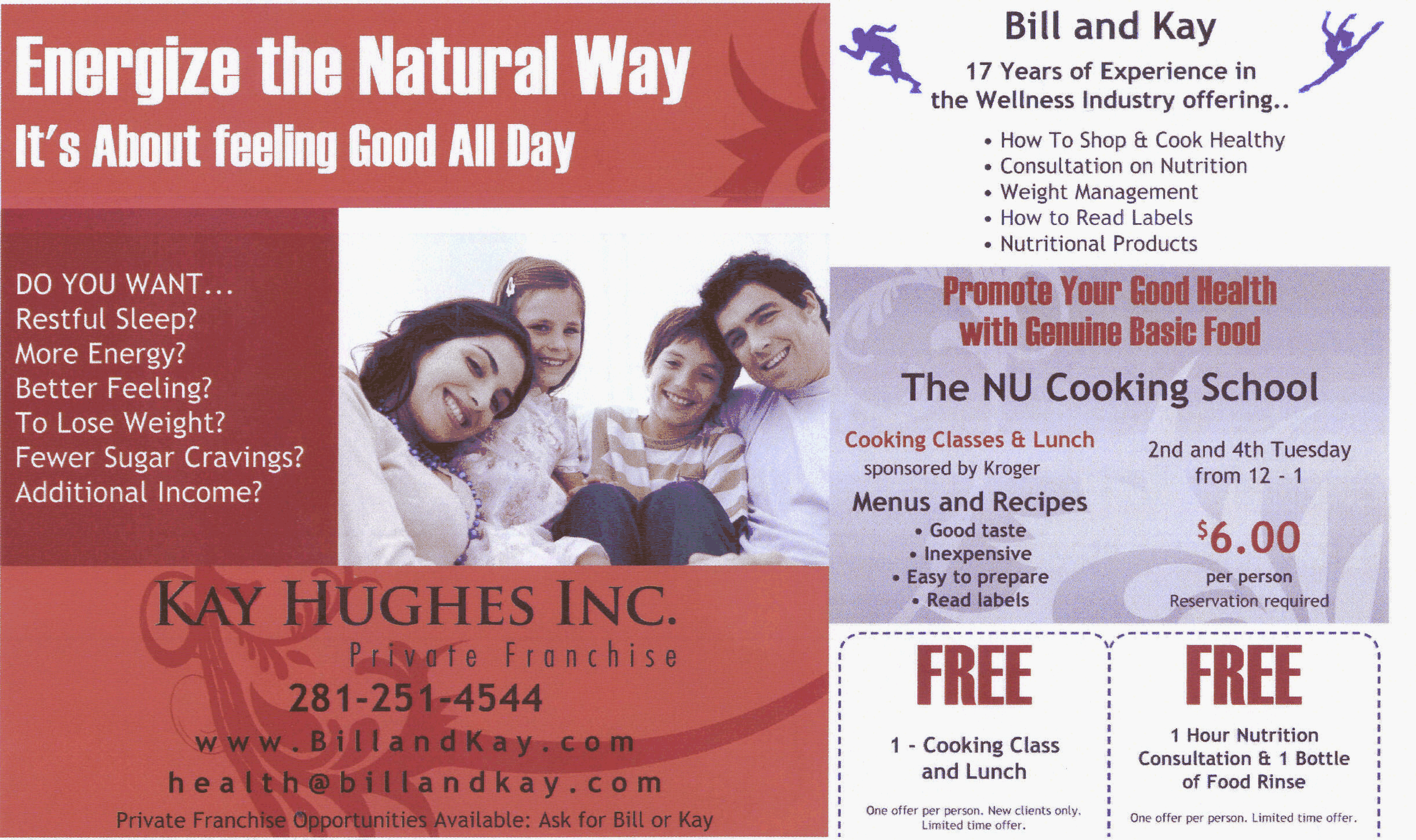 < < FREE First Timer Coupon
Click to print

< < WELCOME Video
Click to view and hear.
TRAVEL Directions
Look Here >> Look Closer >>


Location: Memorial Northwest
17918 Vintage Wood Lane, 77379
KeyMap 330
Between Louetta Road and Spring Cypress Road.
From Louetta, left on Theisswood Road.
Right on Vintage Wood Lane
To the end of the cul-de-sac.
SEE an OVERVIEW of SUNRIDER INTERNATIONAL.
and
SEE PRODUCT INFORMATION and link to MANUFACTURERS SITE
SEE BILLandKAY in the NEWS
>> "1960Sun (2004) << and >> "Houston Chronical (2005) <<
Experience The Best:
* A good meal need not be expensive.
* A good meal has many vegetables, fruits, and grains.
* A good meal includes many colors of plant-based food.
* Good meal should be quick, easy, and convenient to prepare.
* A good meal should be nutritious and satisfy traditional tastes.
Change your life:

SEE, FEEL, SMELL, TASTE, and TOUCH
Healthful, Complementary, Wellness, Products,
WITH
STRONG TEACHING, SUPPORT, and MENTORING
BillandKay want to be your Sponsor-
Mentor in a journey to better health.
It's Time To Start.
A Sponsor is needed.
To order products.
For general information
281.251.4544